An all day area from early morning to late at night combining coffee, snacks, cool cocktails and drinks, as well as a wide variety of delicious choices.
The space of the shop, dominating the role of wood in its decoration, coupled with its large
glass windows overlooking the endless blue of the Saronic Gulf and atmospheric music,
are an ideal choice for relaxing mood nights.
The two businessmen who run it have created for you an impressively tasty, quality menu with choices of fresh
pasta, imaginative risotto, meat & fish, at prices particularly affordable to characterize it as a value for money option.
A menu created with a lot of love and taste, with dishes prepared with fresh ingredients you can enjoy in a tasteful and cozy atmosphere.
At Sea & Sand our goal is your own service .. So we have free wi-fi and parking in order not to get  nervous about anything …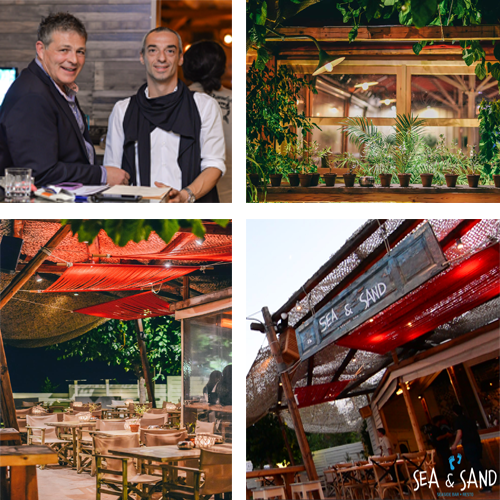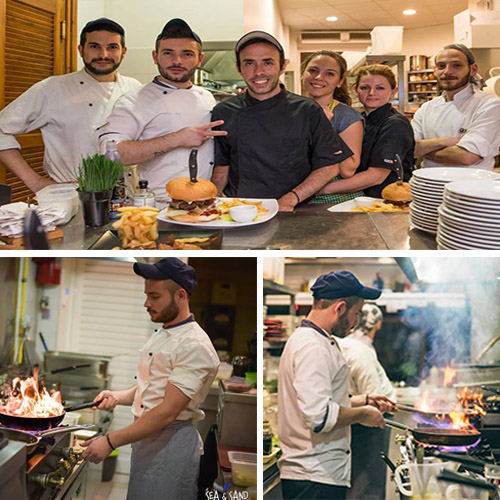 The right and friendly service
and our customer satisfaction is our basic target.
In an area with earthy colors, comfortable seating and large glass windows, where our  kitchen combines discreet luxury with incomparable Mediterranean flavors, we offer a meal  that meets every expectation.
At our atmospheric wine bar you will find a full list of wines and coctails, you can enjoy overlooking the deep blue sea.
 The events we organize almost weekly promise from relaxed evenings to an overnight spree with view of  the amazing beach "Krifi".
And for the summer months an organized beach, designed to serve every possible expectation is ready to welcome you and enjoy your bath or your coffee. 

And if you are more demanding, make your reservation in the prive area by choosing 

sun loungers 

or bangalows for couples or for big groups. 

As for our little friends, playing in the golden sand and diving are the best fun. 

And if you love sports then at Sea & Sand you can play beach Volley or even explore the bottom of the sea  by making Scuba diving in the wonderful waters of the Saronic Gulf.
We are waiting for you at the place where hospitality and food meet in the summer and become one …